4% of landlords exclude pet-owning tenants from their properties (HomeLet)
Pet owners take 7 times longer to find accommodation than non-pet owners (The Dogs Trust)
Be:here Hayes offers pet-friendly apartments
Millions of people rent privately and as many as one in four households will be renting by 2021.  But selecting the right home for all the family, Fluffy and Fido included, can be challenging.
Results from a recent survey conducted by HomeLet indicate that over half of landlords (57.4%) would not consider renting to a tenant who had a pet, forcing many tenants to choose between the home they want and leaving behind their furry friends.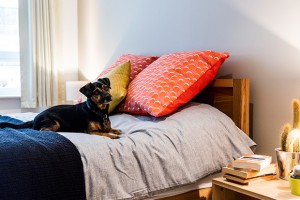 Indeed, the proposed Tenant's Fees Bill could also leave pets out in the cold as landlords who do accept pet-owning renters often demand higher deposits to cover any potential damage. The proposed legislation, – which is due to be implemented in spring 2018 – will prevent them from doing this.
However, all is not lost. The Build-to-Rent sector is coming to the aid of pets and their owners. Developers such as Be Living Ltd strive to accommodate the tenants of today – Fluffy, Fido and other animal friends included.
Be is well ahead of the game, offering pet-friendly tenancies at their new be:here Hayes development in west London.
The scheme is part of the wider redevelopment of the Old Vinyl Factory and just 300 yards (3 minutes' walk) from a Hayes & Harlington station, with Crossrail services due to launch in 2019. Units are available from £1,150 pcm for 1-beds and £1,415 for 2-beds all with either a garden, terrace or balcony.
Of course, it's not just dogs and cats – any small household pets are welcome. The central courtyard at the development is even planted with a catnip.
"To make sure we offer apartments that meet everyone's needs, we have designated several specific apartments as pet-friendly. Some of our pet-friendly apartments have large, private and secure gardens perfect for furry friends to run around – that's pretty unique in apartment living, especially in London. We try to help our four-legged residents adjust to their new homes by giving them special attention (and even some tasty treats) on move-in day."
Layla Kausar, Property Manager – be:here Hayes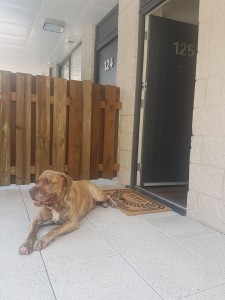 By making room for Fluffy and Fido, be:here Hayes makes the search for good rental accommodation less time consuming and stressful for pet owners, who usually take up to seven times longer to rent a home, according to The Dogs Trust charity.
Saheer Cassim, who recently moved at be:here Hayes testifies: "My partner and I were looking for a new accommodation because my last apartment was very small. The experience was extremely difficult. We tried everything but the problem was always the same: my dog. I have had Coko for ten years: leaving him was not even an option."
Welcoming pets at be:here Hayes is part of building great new communities – this idea appealed to Saheer and many other tenants.
"After a landlord voluntarily gave me back only half of my deposit because of my dog, I was completely desperate! Be:here was a blessing : not only are they welcoming pets but their apartments were affordable and very accommodating. Renting at be:here Hayes with my dog makes me feel like I own the place."
For more information please contact be:here Hayes on 0203 845 4796 or visit http://www.behere-hayes.co.uk/.