Angela Merkel's fourth term win was not the victory the market was hoping for
13% of voters backed the anti-Euro AFD (Alternative for Germany)
Euro trading at 30-day low as a result
Following the twists and turns of 2016, this year started with much apprehension that the populous vote, which saw the surprise Brexit result and Trump's ascension to the White House, would continue and spread throughout Europe.
First there was the Dutch election, with the controversial anti-EU candidate Geert Wilders at one point fancied to be the winner. As election day got nearer, his popularity amongst the voters vanished and he eventually lost. Big sigh of relief.
Then there was the French general election. Enter Marine Le Pen, another anti-EU politician with very strong right wing beliefs, who promised to call France's very own referendum on EU membership if she won. She didn't. Instead, Emmanuel Macron become President and the fear that the plague of populism would spread diminished. The Euro vs the USD skyrocketed on confidence that the EU will live on.
Combined with Mario Draghi's more hawkish tone in his ECB press conferences, where he dropped hints that the end of the central bank's net asset purchases may happen sooner rather than later, EUR/USD soared to the highest levels since January 2015.
Of course there was the German election on the horizon but good old Angela would have no problem with that. Right?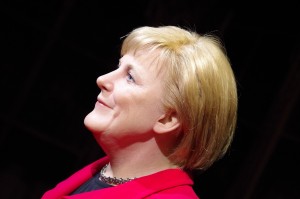 On Monday 25 September the market woke up to an Angela Merkel victory, but not the victory she and the market was hoping for.  Mrs Merkel had won a fourth term, however it was her party's worst result in almost 70 years and she now needs to form a coalition. Not only that but more worrying rival party the AFD (Alternative for Germany), which is very anti-immigration and Islam and indeed the Euro, won 13% of the vote. It's the first far right party to win a seat in Parliament in more than 40 years.
"Mrs Merkel now has to form a coalition, which won't be an easy task. Germany could face months of negotiations as one is formed. Whoever is chosen to partner with Merkel will provide the political direction not only for Germany but also the EU and immigration.
"At the same time, Angela Merkel's weaker positon will also make new efforts to work with French President Emmanuel Macron on Euro-area integration very difficult."
James Trescothick, Senior Global Strategist, easyMarkets
As news spread of a disappointing victory, the EUR/USD opened with a gap lower, dropping from Fridays closing price of 1.19473 to 1.19143.  It continued to decline in both the European and North America sessions and as of the time of writing is trading at a 30 day low of 1.18145.  The EUR/GBP came under further pressure and as time of writing is currently trading around 0.87618.
After concerns of the Dutch and French elections vanished there was hope that political stability in the bloc was pretty secure and the surprises that were experienced and shocked the market in 2016 had gone, but Sunday's election outcome has once again filled the air with uncertainty.
"This sudden turn in AFD winning as much as 13% of vote (bearing in mind the party itself only came into existence five years ago) shows that there is a swathe of voters upset with Merkel's stance on immigration. It underlines that one of the great dangers to the European Union is indeed politics and general elections. In the current climate they have become incredibly unpredictable and dangerous to its actual existence.  AFD's success in the election goes to show that the fear of immigration is still being used as a key tool in the black art of politics to cause upset and surprise."
James Trescothick, Senior Global Strategist, easyMarkets
Italy's general election is due by the end of May 2018. There are concerns that Northern League and the Five Star Movement – both Eurosceptic parties – could fare quite well.  The Five Star movement is gaining momentum in the opinion polls and the Northern League recently won local elections in Genoa and L'Aquila.
Italy's economy the third biggest in the Eurozone is shaky at best with 11% unemployment and national debt at 133% of GDP. There is also a fascinating debate in Italy about the country stepping away from the Euro and introducing a parallel currency alongside it.
"Though the end of May seems a long way away, you may certainly expect the market to start to focus on this general election. With what happened in Germany at the weekend, you may expect bouts of uncertainty about the outcome and how it will affect the European Union.
"The feel good factor that was felt across the bloc after Emmanuel Macron's election victory seems to have diminished. Though the Euro is still currently enjoying a bull run, which started following Macron's win in France, the fear and concern which the market felt at the beginning of the year could start to return as we see out 2017 and prepare for what 2018 will throw at us."
James Trescothick, Senior Global Strategist, easyMarkets
For further details, visit www.easymarkets.com, email pr@easymarkets.com or call +44 203 1500 748.
About easyMarkets
easyMarkets® is an online pioneer market maker established in 2001. We've made trading markets as easy as possible with proprietary mobile, web and desktop platforms. Traders enjoy full markets access with a simple and powerful approach to CFD's, forex and options trading.
easyMarkets® is part of an international network with offices in Europe, Asia and Australia.
Risk warning: Forward Rate Agreements, Options and CFDs (OTC Trading) are leveraged products that carry a substantial risk of loss up to your invested capital and may not be suitable for everyone. Please ensure that you understand fully the risks involved and do not invest money you cannot afford to lose. Our group of companies through its subsidiaries is licensed by the Cyprus Securities & Exchange Commission (Easy Forex Trading Ltd- CySEC, License Number 079/07), which has been passported in the European Union through the MiFID Directive and in Australia by ASIC (Easy Markets Pty Ltd -AFS license No. 246566).